Introducing the Allworx Interact™ Softphone — The New Style of Remote Work
Posted by James Burns on
Rochester, NY – June 1, 2020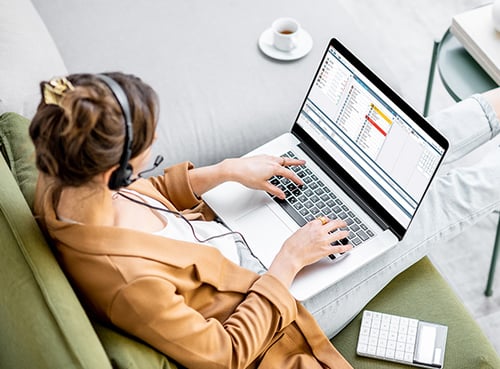 Allworx Corp., a Windstream company, today introduced its new Allworx Interact™ Softphone to complement its complete line of VOIP phone systems. In addition to its line of Connect servers, and award-winning Verge VoIP telephones, Allworx software products bring valuable features and capabilities to the modern office. The remote user capabilities that the Allworx Interact Softphone brings add significantly to the other 'Work From Home' features that Allworx systems already provide.
"The new Allworx Interact Softphone — when added to our Reach Mobility product, plus Verge phones that can be located anywhere, and servers that have built-in conference capability — provide a complete productivity toolset for business users in the office, at home, or on the road. Allworx end-users get all this flexibility without sacrificing any voice quality. Features are seamless across the various products eliminating the confusion of having to switch from one platform to another depending upon the location of the user," said J. Thomas Elliott, Director of Sales and Business Development at Allworx. "Our Allworx Authorized Resellers have been looking to us for a product that can be used remotely on a laptop that incorporates all the great capability of Allworx Interact — our desktop client. The Allworx Interact Softphone does just that. Presence, drag-and-drop transfer, click to dial, call recording, employee status, and participation in a call queue are all features included in the Softphone. With the complete Allworx solution, the integration of the software makes for a seamless voice communications experience for end-users. They no longer have to learn how to use a desk phone, a remote phone, a smartphone app and a conference bridge that are all separately provided and have limited integration."
Allworx Interact™ Softphone — The New Style of Remote Work
Interact Softphone includes takes advantage of powerful business integration features, including easy access to internal and external contacts, Microsoft Outlook, receive Salesforce screen-pops and dial-out using the application database, and many more features:
Click to Dial for outbound calls
Click to answer on incoming calls
drag-and-drop for transferring call to another user
drag-and-drop to park a call to a parking orbit or extension
Status and Busy Lamp Field indications
Call recording on demand
Flexible screen configurations
Presence setting with flexible ringing arrangements
Do Not Disturb
ACD queue participation
Voice mail access
Ability to work off the laptop or in conjunction with an Allworx Verge phone
Access to Contact Information with auto updating
Allworx Provides Complete Onsite, Mobile, and Remote Communications
Allworx Interact Softphone is easily configured by System Administrators and allows easy customization by the end user as to screen size and information flow. With the Allworx Interact Softphone — in combination with Allworx Verge desk phones and the Allworx Reach smart phone application — users get a complete onsite, mobile, and remote work capability in one integrated system from Allworx. 
The Allworx Interact Softphone is perfect for remote users who want to use all the features they have at the office on the Allworx system, but use them seamlessly with just their remote laptop. 
Download Interact Softphone End User Sellsheet
About Allworx
Headquartered in Rochester, N.Y., Allworx is an award-winning maker of VoIP communication systems for SMBs and a wholly owned subsidiary of Windstream. Allworx provides a complete portfolio of VoIP systems, IP phones, network switches and advanced software options to help SMBs create solutions tailored to meet their unique needs. Allworx has deployed many thousands of systems to end users throughout North America and millions of its VOIP phones. Allworx is available to SMBs through a network of 1,000+ independent resellers in the U.S., Canada and Latin America. For more information, please visit www.allworx.com.
---
Share this post
---
---
---
0 comment